Acting for People
"Acting for cities" is the motto that drives ATENOR actions to imagine and create the cities of tomorrow.
ATENOR works every day to create more resilient, smart, sustainable and inclusive cities. Cities that are built upon the same human values which animate ATENOR in all its projects and which are at the heart of its corporate culture. As a major urban player, ATENOR mission also consists in improving the quality of life for all citizens.
Today, ATENOR shines the spotlight on the importance of meetings, contacts and exchanges by launching "Wake Up the City". A nod to city life and the importance of social ties.
By offering a moment of conviviality around a cup of coffee, ATENOR symbolizes and celebrates city life. The ATENOR coffee truck will travel to several places in Brussels and in most European cities where ATENOR is present, offering citizens a unique moment in a resolutely fair and sustainable global approach. When exiting the train, the metro, on a terrace, at the corner of the street, at the office, this coffee moment is an additional sign of ATENOR's commitment to a plural, open, unifying urban life, rich in its diversity and contacts.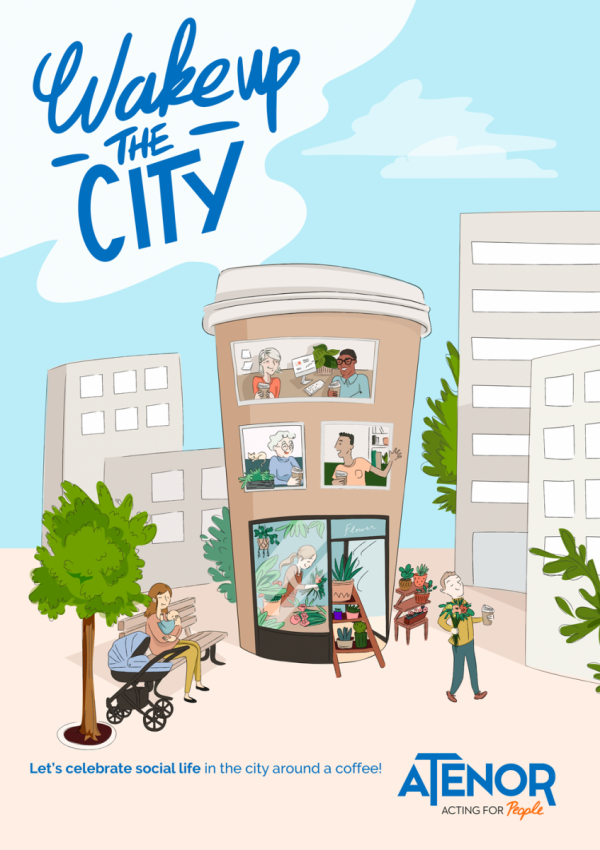 7-10 Oct
Lisbon (PT),
Real Estate Salon,
Park of Nations
8h – 12h
8 Oct
Cloche D'Or
8h – 12h
19 Oct
Belval Plaza
8h – 12h
26 Oct
Perspectiv'
8h – 12h
21 Sept
Warsaw, University
Business Center II
8h – 12h
25-26 Sept
Bucharest, Lipscani Street,
in front of Dacia Palace (RO)
8h – 12h
30 Sept
Leudelange,
Buzz
8h – 12h
2-3 Oct
Bucharest, Dacia One (RO)
8h – 12h
4-5 Oct
Bucharest, Hermes
Business Campus (RO)
8h – 12h
6 Oct
Windhof (LU),
ATENOR offices
8h – 12h
Wake Up the City – The European journey

Acting for Cities is also Acting for their citizens.: ATENOR launches the initiative "Acting for People".
True to this value, the whole ATENOR team is working to put the citizen at the heart of its urban projects and concrete actions. The citizens' wellbeing is the cornerstone of our societal commitment.
ATENOR pledges support to the medical community
In our cities, there are thousands of citizens putting their lives at risk to help the sick, to support those who are most in need and to keep the rest of us safe.
Tackling this global pandemic requires the involvement of all and ATENOR is willingly and deliberately taking its share through concrete support.
Acting at international level, with its roots in Belgium, ATENOR has decided to allocate funds to support medical research and medical staff in university hospitals as well as to help associations who take care of vulnerable citizens most in need.
In these difficult times when social distancing has become the rule, ATENOR remains active in creating other links between citizens, and solidarity and societal responsibility are one of those crucial links.
To make 2021 a year of joy and solidarity, ATENOR developed partnerships with several associations supporting less-favored people

Infirmiers de rue
ATENOR chose to work with "Infirmiers de rue" with which it shares the same values.
ATENOR has organized the online auction of several works of the photographer Benoît Feron, coming from the "Art for Cities" initiative, via a unique concept on the online platform www.weauction.nl.
The auctions were a real success. The funds raised have been entirely donated to the  www.infirmiersderue.be which fights against homelessness in Brussels.
Through mobilization and solidarity, "Infirmiers de rue" seeks sustainable solutions to get vulnerable people off the streets.
Restos du cœur
2021 Meals for 2021 – in cooperation with "Les Restos du Coeur" & other similar associations in the 9 countries where ATENOR is present
This year more than ever, ATENOR confirms its societal commitment and makes a concrete gesture of solidarity and generosity towards less-favored people.
ATENOR wishes to make this Christmas unique and show how a simple gesture and warm words can brighten someone's day.
In this upcoming Holiday Season, ATENOR will distribute 2021 meals to the less-favored people in Belgium, in partnership with "Les Restos du Coeur", a well-known association which offers meals and food packages. This action will also extend to the 9 other countries where ATENOR is present.
Instead of sending traditional Christmas cards, ATENOR is sending its greetings inviting recipients to share their wishes (anonymous or not) on the ATENOR wall specially conceived for this occasion. These words of comfort, warmth and human solidarity will be shared with "Les Restos du Coeur" during the distribution of the Christmas meals.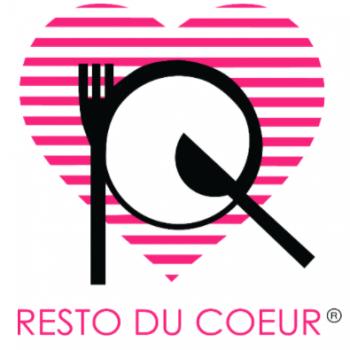 Solidarity and generosity throughout the European cities where ATENOR is present
Luxembourg : support to La Vie Naissante – a NGO supporting young mothers in need
Paris : support to Les Restos du Cœur to offer meal boxes to the less favoured people
Lisbon : 2021 meal boxes have been distributed to homeless and less favoured people through support to the NGO Comunidade Vida e Paz
Warsaw : financial support to Pechery Orphanages to arrange safe meeting places for children and their loved ones
Budapest : 2021 meal boxes have been delivered to disadvantaged children through the local children's nutrition foundation, Gyermekétkeztetési Alapítvány
Bucharest : food boxes have been delivered to people in a state of extreme vulnerability through the NGO Carusel. Discover the video : https://www.youtube.com/watch?v=yMalHbNSfkQ